CARD TYPES
From MaxCard
PVC LAMINATED CARDS ISO 7810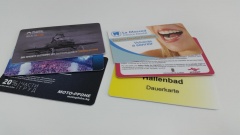 Produced by materials of high quality. Conforming to the ISO standard. Size: 85.60 х 53.98 mm Thickness: from 0.5 to 0.84 mm. Better accessibility, better security and increase of the cutomers loyalty are some of the many benefits of the plastic cards. Thanks to the modern technologies and printing applications the possibilities for use of plastic cards increase significantly. Cards for gifts, membership, loyalty, hotels, for discounts, information, insurance, for access control, banking, credit cards etc. are only some of the applications of the plastic cards. We offer solutions for printing of the whole range of plastic cards – by ordinary plastic and cards with magnetic stripe (low coercivity and high coercivity), personal photo cards and contactless smart cards.
MAGNETIC STRIPE CARDS ISO 7811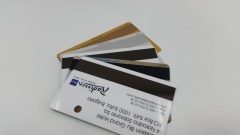 Produced by materials of high-quality. Conforming to the ISO standard. Size: 85.60 х 53.98 mm. Thickness: from 0.5 to 0.84 mm. The stripe affords record of limited number of data. The magnetic stripe may be LoCo (low coercivity) or HiCo (high coercivity). The information is electronically readable with magnetic card reader.
More for the record on magnetic stripe.

CONTACTLESS RFID CARDS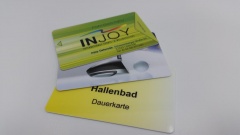 Contactless data transfer without need of additional supply. The contactless smart cards (also called chip cards) become more popular in the last years. This is because of their physical durability, flexibility and their convenient integration in many various applications. The use and the market of smart cards show continuous growth in the last years worldwide. They may be stored, managed and protect the data with high degree of security. At the same time the devices for operation with them are modified for operation in any conditions, they are protected by moisture and cold and they do not need a special maintenance. The smart cards produced by MaxCard for our customers are integrated in different sectors as: hotel complexes, administrative institutions, entertainment parks, hospitals, sport centers, spa complexes and many others. The variety of RFID chips at the market becomes wider, dictated by the growing requirements of applications. Currently we may integrate in our cards chips by the following types: - EM4200 (125 KHz Read only) - Hitag (125 KHz) - ICode SLI (13,56 MHz) - Mifare 1 S50 (13,56 MHz) At interest on behalf of the customer we may also supply other types of chips for integration.
3 KEY TAG CARDS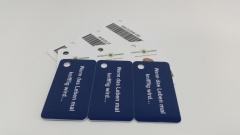 3-UP KEY TAG -Three Key Tag represents a standard card ISO CR-80 with thickness of 0,76 mm divided into three smaller cards with possibility for a hole in one of the corners. At them shall be taken into consideration that can not be present contactless chip or magnetic stripe. Also the card thickness as well as at Mini Visa can not be different than 0,76 mm. The Three Key Tag cards are appropriate for different promotions and discounts where more than one person may use the same service.
MINI VISA CARDS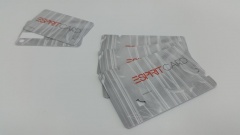 The small Mini Visa cards are part of a bigger standard card ISO CR-80 with thickness of 0,76 mm, as may be produced also with magnetic stripe at customer`s choice. The mini cards operate with all devices for reading and recording of cards with magnetic stripe, excluding the ATM machines. The provided hole in one of the corners affords their hanging on keychains or mobile phones. They are very appropriate for promo cards, cards for regular customers, mini-calendars, certificates for origin.
PERSONALIZED PVC CARDS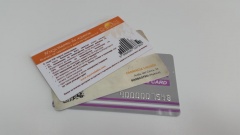 Personalization of a card is made when it is necessary for it to bear any unique information regarding the owner, product or service which it offers. The personalization makes every card unique and binds it with the bearer, for example badges, cards for loyal customers, business cards, or with the system for which it is intended – promotion cards, cards for discounts and many others. The possibilities for personalizations are many – electronic personalization, barcode, picture, name, emboss and many others.
PVC LAMINATED CARDS WITH NON-STANDARD SIZE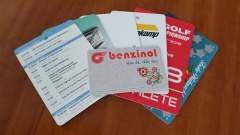 Made of high quality materials, size up to 450 x 300 mm, thickness: From 0.5 to 0.84 mm. These can be information cards, access control cards, representative badges, and more. Non-standard cards can be personalized on both sides with photos, barcodes, schedules, and more. Other areas of application: Names, betting labels, events, congresses, fairs and more.
CARDS INTENDED FOR CONTACT WITH FOODS

The plastic cards are matt laminated on both sides and are suitable for any card printer. They are manufactured in accordance with ISO 7810.
Areas of application specific to your company:
prices for bakeries, butchers, delicatessen and other retail outlets.

Food contact products can be made from different materials such as plastics, rubber, paper, metal, etc. In many cases a combination is used; e.g. a cardboard box for juices may include (inside out): plastic layer, aluminum, paper, printing and coating.
In contact with food products, molecules of material may migrate into the food. 
Therefore, in many countries, regulations are in place to ensure food safety.

The international symbol for "safe food" material is a wine glass and fork symbol. The symbol indicates that the material used in the product is safe to contact with food. This includes food and water containers, packing materials, cutlery, price plates, and more. The regulation is applicable to any food contact product whether it is made of metals, ceramics, paper and cardboard and plastics.