APPLICATION
From MaxCard
Discount cards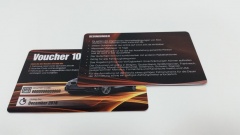 To attract new customers for your business or to thank those who have already chosen to work with you, the plastic cards of MaxCard are an excellent solution. We offer you many options to make your cards interesting, spectacular and memorable. Cards could be with barcode, magnetic stripe or chip.
Loyalty cards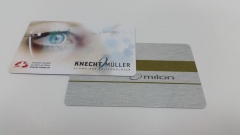 Notwithstanding of the economic climate the customers retention is of the first significance for the long-term success of your business. The customer`s cards are what makes the customers think about your company when a decision for purchase is taken. The plastic cards is widely acknowledged as the easiest and the best way to maintain long-term customer`s engagement. One program with loyalty cards is an excellent marketing strategy for encouraging current, attracting future customers, as well as a great way to advertise your business. The grant of loyalty card is a good sign of appreciation to customers and at the same time allows feedback from them – can easily be traced revenues and expenses incurred in such a program. At us you can order reloadable cards with own design, compatible with almost every POS (Point of service) platform, no matter if it is existing or is going to be built. The cards manufactured by us may be personalized additionally for every card printer at the market.
Club cards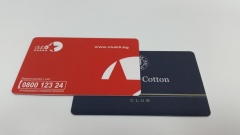 For each club, association or organisation is important to be able to identify its members, win new ones and keep them. A powerful tool for this are the PVC membership cards. A quality plastic membership card can help to raise the image of the club or organisation and create a lasting and positive impression on the members of the club or organisation. For maximum efficiency in the issuance and use of your membership cards we can offer you a variety of options, such as personlisation with numbers, barcodes, magnetic stripe data encoding, contactless chip.
Gift cards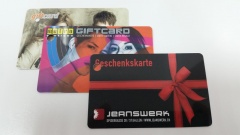 The gift cards are a great marketing tool that helps to promote brand products, services or chain stores. Your customers may buy a plastic gift card with different value and delight their friends or family leaving them free to choose their gift. By means of electronic gift cards nowadays many traders enlarge their business in Internet. We can produce your gift cards with full-color printing and excellent quality as in large circulations as well as for minimum quantities. We can laminate them with matt or glossy surface and to customize them with numbers, barcodes, or magnetic stripe encoding – depending on your needs. If you want to give them additional shine– we offer you a wide range of extras – hot stamping, spot varnish, metallic glitter silver or gold base. We can put the gift cards in special printed promotional packaging suitable for display stands. The design of the gift packaging may correspond to that of the card itself.
Prepaid cards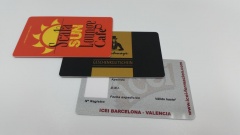 The prepaid cards are well-suited for sports and SPA complexes, entertainment centres. They can have barcode, magnetic stripe or contactless chip.
VIP cards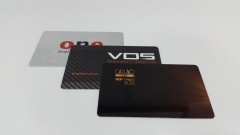 They are widely used in clubs, restaurants, luxury retailers and private clubs. If you want to give them extra shine - we offer you a wide range of options - hot stamping, spot varnish, silver or gold glitter metallic base.
Key cards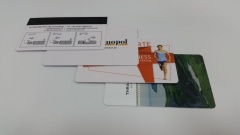 The key cards made by PVC are modern and elegant way for providing the access control to your hotel, office, fitness or SPA center. No matter of you need 50 cards for small family hotel or you need a greater quantity (500+) key cards for whole chain of hotels – MaxCard will produce them according all requirements and without any compromise in the quality. The cards produced by us conform to your locks and may be so encoded that to be compatible with the existing access control system. We can print your design on normal, magnetic or smart (chip) cards regardless of the quantity.
Guarantee and service cards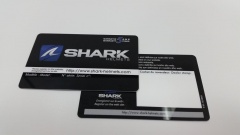 They successfully replace the paper guarantees, they are resistant to external influences, compact and contain all the necessary information about the product.
PVC business cards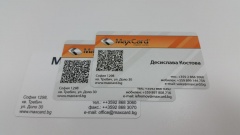 A durable and luxurious solution for a business card which always leaves a good impression. Usually produces with a thickness of 0.5 mm., as are possible many special effects.
ID cards and access control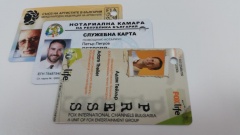 Reliable solution for identification and personnel access control in large enterprises and institutions. The contactless smart cards with printed photo and personal data are most frequently used.
Promotional Cards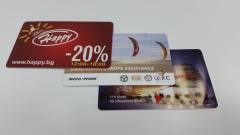 To attract new customers for your business or to thank those who have already chosen to work with you, the plastic cards of MaxCard are an excellent solution. We offer you many options to make your promotional cards interesting, spectacular and memorable. These options include: personalized numbers, codes or other texts hidden under easily scratched-off cover (scratch-off), printing with invisible ink, which at lighting with UV light becomes readable, (link to special effects/magic stamp), hot stamping of signs and hologramic images and printing many different logos at combined promotional campaigns.
Smart Cards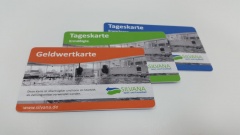 The contactless smart cards (also called chip cards) become more popular in the last years. This is because of their physical durability, flexibility and their convenient integration in many various applications. The use and the market of smart cards show continuous growth in the last years worldwide. They may be stored, managed and protect the data with high degree of security. At the same time the devices for operation with them are modified for operation in any conditions, they are protected by moisture and cold and they do not need a special maintenance. The smart cards produced by MaxCard for our customers are integrated in different sectors as: hotel complexes, administrative institutions, entertainment parks, hospitals, sport centers, spa complexes and many others.
The variety of RFID chips at the market becomes wider, dictated by the growing requirements of applications. Currently we may integrate in our cards chips by the following types:
- EM4200 (125 KHz Read only)
- Hitag (125 KHz)
- ICode SLI (13,56 MHz)
- Mifare 1 S50 (13,56 MHz)