ADDITIONAL FEATURES
From MaxCard
Hologram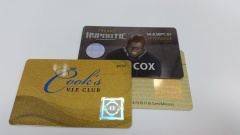 Hologram, from Greek: "image of the whole". The hologram is a photographic technology which records the light dispersing by one object and then presents it in a manner that looks threedimensionally. The hologram is a form of representation which affords the recording and reproduction of threedimensional images by means of laser. The hologram placing gives additional protection to the product.
Hot Stamping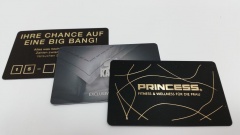 The hot stamping is a technology for transferring a metalized foil layer on material. By this printing method is allowed the realization of unique ideas and projects by the designers as well as possibility for protection of products with the so-called hologramic foil. At the hot stamping are used special magnesium plates by which by applying the respective pressure and temperature may be printed different images, company logos, texts and other graphical elements.
Signature panel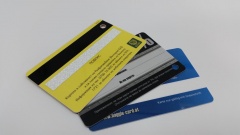 Frequently the possibility for writing additional information on the card, immediately before the same to be given to the final user is necessary. This may be usual signature, names, validity term etc. In this case on the card is put a special layer allowing the use of ordinary pen for inscription. This layer may be put by hot stamping or so called single stamp – a transparent varnish dried on UV light.
Perforation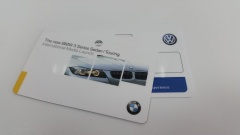 In the cases of ID badges for exhibitions, conferences, congresses and also in other ones is frequently needed the card to be borne on a visible place which allows easy identification of the bearer. For this aim we offer a hole or slot perforation.
The hole perforation (hole punch) may be made as in each of the card corners as well as on the short or long side.
The slot perforation (slot punch) is with sizes 14 × 3 mm and may be placed in the middle of the short or long side depending on if the card will be used horizontally or vertically.
As accessories for these perforated cards we also offer many types and colors of necklaces, clips, Yo-yo etc.
Transparent cards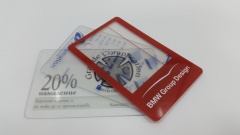 This special effect affords printing on transparent materials and allows huge variety of additional special effects and unique designer`s solutions. The transparent cards may be combined with other special effects, may be personalized as well as to be equipped with magnetic stripe. And at their combining with screen printing or offset printing is given possibility for many colors and effects, including PANTONE®, silvery and golden (metallic) colors as well as bases and details.
Non-standard shapes (3-Up Key tag, Mini Visa)
A particular shape is cut by means of part of the card. This subsequently allows it to be easily separated into several smaller cards (Key Tag) or to be separated a smaller card (Mini Visa), which is more convenient for bringing in a wallet, note-book etc. At this moment we offer two types of punching:
MINI VISA – by the standard card with dimensions 85.60 × 53.98 mm (ISO/IEC 7810-ID1) after punching may be broken-off a smaller card with dimensions 40 × 66 mm, which may have a standard magnetic stripe. In the bottom left corner of the card there is a round hole of 5 mm, which may be excluded by the punching upon customer`s wish.

3-UP KEY TAG – after punching the standard card may be separated into 3 identical smaller cards as each of them has a hole of 5 mm in one of the corners. The hole may be excluded at punching upon customer`s wish.
Printing with Security (invisible) ink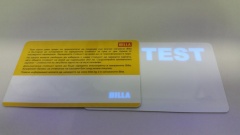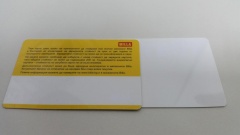 This is printing with "invisible" ink which becomes visible only at a particular light (so called "blacklight"). In a similar way are printed special protective elements of the banknotes. It is extremely appropriate as additional level of protection of the cards by falsification and abuses. There may be printed any text or image which on normal daylight is not seen but at lighting with violet light becomes visible.